Zhanzhuang -
Frequently Asked Questions (Part 1)
1. What kind of exercise is Zhanzhuang?
Zhanzhuang is a special exercise of "motionless" movement, which is, a relatively static movement of the body. In physics, the faster/more advanced a movement, the less visible it is. Just like running wheels of a car, it might look like they are not moving, but in reality, they spin at an extremely high speed. 
Muscle movements in the Zhanzhuang exercise comes from the inducing of Yi (mental intents), which is practically invisible. The understanding of Zhanzhuang will be improved with continuous learning, combined with philosophical thinking. Zhanzhuangers can enter Tao with their Zhanzhuang skill.
站桩是个什么样的运动?
站桩是一种定位运动,运动越高级越不显于形。犹如汽车的轱辘,旋转的陀螺,看是不动,其实是高速运转。站桩是精神意念诱导下神经支配肌肉的运动,随着不断学习,哲学思想的认识提高,以技入道可不断升华。
2. How do Yi/intents generally work in Zhanzhuang?
The Yi of Zhanzhuang are mainly divided into partial Yi and overall Yi. First of all, we must maintain the proper structures of the Zhanzhuang stances. The partial Yi is to adjust a certain part of the body, the overall Yi is to command the whole body: the two must be just right (which takes a lot of practice, of course).
怎样理解站桩的意念?
站桩意念主要分为局部意念和整体意念。站桩首先要把间架放恰当,局部意念是为了调整身体局部某个部位,整体意念是为了统帅周身,一定做到二者不分恰到好处。
3. Is Zhanzhuang the same in every Chinese martial art?
No. Zhanzhuang in different martial arts are very different. In fact, nearly every martial art style used to have Zhanzhuang. Zhanzhuang was later faded out of sight due to the proliferation of forms. At present, only a few martial arts emphasize Zhanzhuang, and the methods are very different.
站桩功都一样吗?
不一样,其实以前每个拳都有站桩,后来因套路的兴盛站桩被人们淡出了视野,只有少数拳重视站桩,而且站桩之法各说不一。
4. How is Zhanzhuang different from standing?
Zhanzhuang is not ordinary standing. Zhanzhuang is not standing with special postures. The ancients said that standing with no flexibility for a long time will hurt the bones; standing with dead postures will harm the body. It can be said that Zhanzhuangers practice Quan (Chinese word for martial arts) in extremely small movements. 
All the joints are bent or curved; muscles contract rhythmically: to maintain the balance of standing. Zhanzhuang is a combination of mental imagining and physical practicing which includes dynamic and static moving, tightening and loosening the body, rest and exercise, etc. 
The body does not lack oxygen, the heart does not have extra pressure, the joints do not wear out. Zhanzhuang can calm the central nervous system, strengthen blood circulation and promote the body's metabolism.
站桩与站立有何不同?
站桩并非是常人之一站,不是摆个架子随便一站。前人讲:久站伤骨,死站伤身——指的就是普通站立。站桩其实是在小动作练拳,站桩时关节各部位形成曲蓄,肌肉主动节律性收缩来维持站立的平衡,加之站桩有精神上的虚灵、动静、松紧等意念诱导活动,把休息和运动统一起来(我们叫做:想练结合),能抑制中枢神经,身体不会缺氧,心脏没有任何压力,关节不会磨损,能加强血液循环,延年益寿。
5. Should eyes be closed or open?
Beginners should not close their eyes during Zhanzhuang, because the exercise usually produces a variety of different physical reactions in the beginning. It is easy for beginners to focus their thoughts on uncomfortable parts of the body when their eyes are closed. After the body has passed the certain period of physiological changes, one can practice with eyes closed.
站桩闭眼练习好还是睁眼练习好?
站桩对初学者来讲不易闭眼,因为站桩初学者身体会有各种不同的反应,往往闭眼容易把思想全集中在身体某些难受部位,越想越难受,等身体通过了站桩生理变化期,适应了站桩运动也可以闭眼练习。
6. How much should the knees be bent?
The greater the bending of knees, the greater the amount of exercise. It is not easy for beginners to persist if bending their knees too much. Also, the knees might be damaged that way, before a beginner practices enough. One rule is when the knees are bent, the knees should not bend past the tips of the toes.
站桩时,膝盖弯曲多少合适?
站桩膝盖弯曲越大运动量也会相应加大,对初学者来讲弯曲太大不容易坚持,再者弯曲太大容易膝关节受损,所以我们站桩时要求膝盖弯曲不能超过前脚尖。
7. Which age group is Zhanzhuang best for?
Zhanzhuang is suitable for people of all ages to practice. Kids less than 10 years old or seniors more than 80 years old are all okay to practice Zhanzhuang. So Zhanzhuang is not restricted by age, gender, health condition, or place of training. One can practice Zhanzhuang nearly anytime, anywhere.
站桩适应哪个年龄段的人练习?
站桩适应各个年龄段的人练习,从十多年武馆里教学情况来看,小至6岁,上至80岁的练习者都有。站桩不拘泥于年龄、性别、身体状况等,随时随地都可以练,所以受到各个年龄段人群的欢迎。
8. How many stances should one learn for health purposes?
There are many stances–we don't need to learn every single one. The parallel-step stances that I'm teaching are enough for health preservation and improvement. One must understand the Expanding and Embracing stance is the fundamental stance, which can be transformed to all other stances. Different stances have their own focus on different training points, but the principles are nearly the same.
站养生桩要学多少个桩法?
桩法很多,但不需要每个桩法都学。一旦有了平步撑抱桩的基础,就可变化其它桩法,其它桩法的大致原理同平步撑抱桩相同,只是手型有区别,各种桩都有各自侧重点。
9. Why can Zhanzhuang cure all diseases?
This is a huge topic. To put it simply, the metabolism of the human body mainly relies on blood circulation to provide and distribute nutrients and oxygen and remove waste products from all parts of the body. Zhanzhuang can calm the central nervous system, promote blood circulation, and strengthen metabolism. 
A strong circulatory system is conducive to the health of the internal organs. In essence, the circulatory system is the foundation and main guarantee for health. Zhanzhuang improves the circulatory system, which is the main reason it can cure diseases, especially chronic diseases.
站桩为什么能治百病?
简单一点来说,人的身体主要是靠血液循环提供有氧物质,站桩能抑制中枢神经,促进血液循环,加强新陈代谢,循环系统的强大利于五脏六腑的健康,从本质上来讲循环系统是健康的主要保障。站桩是改善循环系统的有氧运动,所以改善循环系统才是改善百病之因。
10. Do we no longer need to Zhanzhuang after we are recovered?
Zhanzhuang cures diseases we might have; Zhanzhuang enhances the body if one has no diseases. After the body recovers through Zhanzhuang, it seems that one may not need to stand any longer, but the body function will decline, and bad things will reappear after completely stopping the exercise. It is best if one can integrate Zhanzhuang into life, in other words, stand and be healthy as long as one lives.
身体健康后就不用站桩了吗?
站桩的本质作用是有病治病,无病强身。通过站桩身体恢复好后,表面看可以不用站了,但是完全停练后,身体机能还会下降,旧的毛病还会出现。身体恢复后如能继续长期练习,把站桩融入生活,活到老,站到老,则最佳。
11. What does it mean that Zhanzhuang is the foundation of Quan/martial arts?
A person who practices Quan first needs to be in good health. Only when the body is strong can one learn to defend oneself through combat. Zhanzhuang can transform one's physiology and give full play to the human body, which is needed for practicing Quan. Yiquan says: one must start from Zhanzhuang to pursue the essence of Quan. 
One stance can transform into thousands of stances, thousands of stances come from the foundation of the one stance. The greatest advantage of Zhanzhuang is that it can be practiced for a lifetime and so can keep the body vigorous for a lifetime. That's why there is an old saying: a hundred different kinds of training are less good than one type of standing. These are the traditional concepts of Chinese martial arts.
站桩为什么是练拳的基础?
一个练拳的人首先需要身体健康,只有身体的强大才能自卫、搏击。站桩能改造生理,发挥人体良能,这些都是技击需要的资本。前辈有云:要知拳真髓,首由站桩起,一势可变千百势,千百势来源于一势之基。站桩的最大优越性就是终身可练,能长久保持身体活力,故有百练不如一站之说,这些都是中国武文化的传统理念。
12. Why do the knees and shoulders hurt when I Zhanzhuang?
There is a basic structure requirement for Zhanzhuang. Zhanzhuang only makes sense under the right structure. For all beginners, the body has never been exercised with this correct structure. It needs a process of adaptation. This process is unavoidable. Almost everyone will experience discomfort in certain parts of the body, such as knee pain, shoulder pain, or a previous injury bothering us again. 
We call this process "finding pain", it's actually not right if there is no pain. Speaking from Chinese medicine, these pains are caused by the blocked qi and blood in certain parts of the body. Zhanzhuang is meant to make the qi and blood more unblocked. These pains are only temporary. After a period of time, when the body's qi and blood are completely unblocked, pains will disappear gradually.
为什么站桩会膝盖疼,肩膀酸?
站桩有一个基本间架要求。间架只有在正确的情况下,站桩才有意义。对于所有初学者来说,身体从来没有在这样的间架上运动过,需要一个适应的过程。这个过程是必需的,几乎每个人都会出现身体某些部位的不舒适,比如,膝盖疼,肩膀酸,或者以前的旧伤发作。这个过程我们称之为"找疼",不疼还不对了。而从生理学上来说,这些疼痛也是因为身体局部气血不通造成的,我们教的站桩就是为了气血更加通畅,所以,这些疼痛只是暂时的,过一段时间,当身体气血完全通畅了,疼痛自然消失。
13. Why does the body tremble when doing Zhanzhuang?
Trembling does not happen to everyone. Some practitioners experience involuntary tremors in the early stages of Zhanzhuang. One likely reason is that they don't usually do exercises; it may be also caused by lack of physical coordination. 
When this happens, there is no need to panic. Calm down and settle your body with the right mind. As long as you train repeatedly and persist for a long time, your physical fitness will be strengthened, your body will be more coordinated, and the tremor will disappear automatically.
为什么站桩身体会发抖?
有一部分人,站桩初期,会出现身体不自主颤抖的情况。可能的原因是自己平时运动量太少了,也可能是因为身体不协调造成的。出现这样的情况,不要慌张,需要静下心来,通过正确的意念让身体定下来。只要反复训练,长期坚持,体能更加强盛,身体更加协调,颤抖会自动消失。
14. Why are the feet or the hands numb?
A small number of practitioners have numbness in their feet and/or hands, mainly because their qi and blood are blocked. This is not a bad phenomenon, because the body is using Zhanzhuang to push the qi and blood through the whole body (hands and feet are farthest from the heart). Once the qi and blood can flow freely, the numbness will disappear and the body condition will be greatly improved.
为什么站桩脚麻或手麻?
少部分学员站桩出现脚麻、手麻的情况,主要原因是自身的气血不通或者堵塞。这不是坏的现象,因为您的身体正在利用站桩打通身体梢节(手、脚离心脏最远)的气血,一旦这一关克服了,您的身体将大有改善。
15. Why do I sweat so quickly when doing Zhanzhuang?
This question may be raised by people who don't usually sweat. A physique that usually does not sweat is generally not bad. However, proper sweating is necessary for detoxification. After all, sweat is a greater detoxification pathway for the body than urine. 
The improvement of Zhanzhuang on the whole body begins with unobstructed qi and blood. Even practitioners who don't usually sweat can sweat quickly while doing Zhanzhuang. This should be a very comfortable phenomenon, especially when you take a shower after sweating all over (it is recommended not to take a shower within 30 minutes after Zhanzhuang). You are supposed to sleep better and have more energy.
为什么站桩很快流汗?
这个问题可能是平时不怎么出汗的人提出来的。不出汗的体质,一般来说,也不能说不好。但是适当的出汗是必要的,有排毒的功效。毕竟相比尿液,汗液是身体更大的排毒途径。站桩对身体整体的改善,开始于气血通畅。即使平时不流汗的学员,站桩也能很快出汗,这是个非常舒服的现象,冒一身汗,回家冲个澡(建议站桩完30分钟内不要冲澡),一身疲劳立刻就消失了。睡眠更好,精力更加充沛。
16. Why do I sweat too much while doing Zhanzhuang?
No matter how much you usually sweat in your daily life, many practitioners sweat a lot at a certain stage of Zhanzhuang learning, which can be described as "sweat like rain." Some people worry that sweating too much is bad for their health, because Chinese medicine says "sweat is the fluid of the heart." Regarding sweating, there are generally two types: active sweating and passive sweating. Sweating during Zhanzhuang is active, which has very limited or no side effects on the body. 
If you persist with Zhanzhuang, the amount of sweating will naturally become normal after a long time. If you are in the stage of a lot of sweating, learn to deal with it reasonably. For example, if you have no physical discomfort the next day, then you don't need to avoid sweating, just keep standing as usual. 
If you experience physical weakness which affects your life and work to some extent, then your exercise volume is too much. You need to adjust. Lightening the training Yi, or reducing the amount of exercise (time of standing), should reduce your excessive sweating.
为什么站桩流汗太多?
不管平时出汗多少,站桩的时候,很多人在某一个阶段,身体大量流汗,可谓"汗如雨下"。有些人会担心,出汗太多对身体不好,因中医说"汗为心之液"。简短来说,站桩是主动出汗,对身体是没有副作用的。坚持站桩,时间长了,出汗量会自然地变得合适。如果您正处于大量出汗的阶段,要学会合理面对,比如您第二天身体并无不适,那么不用刻意回避出汗,照常站下去即可。如果您站桩过后或者第二天,出现身体疲软,有点影响生活和工作的话,那么您的运动量太大了。需要调整。减轻意念,减少运动量,减少出汗。
17. Why do I have a sense of Qi-emitting when doing Zhanzhuang?
Some practitioners who have studied qigong books or practiced qigong may have "a sense of Qi-emitting" in some parts of their body after doing Zhanzhuang for a period of time. The Zhanzhuang we teach does not include qigong. You will have "everything" such as great body alignment, the whole body unified as one, internal and external body balance, good physical and mental health, etc. once you can do Zhanzhuang very well. 
The sense of qi is not needed whatsoever in our teaching method. We believe Zhanzhuang should not be added to the practice of Qigong. Zhanzhuang is "seeking concreteness in abstraction," the simplest is the best. Follow our method, and you will agree with us. However, when experiencing "a sense of Qi-emitting", 
this is what you should do. Relax your mood, don't have delusions, and continue standing. Often, that sense is caused by the floating qi and blood, in which case, your Zhanzhuang is on the wrong side. When that happens, you should immediately return to the most basic training to avoid that.
为什么站桩有气感上身?
可能是以前接触过气功的书籍或者练过气功,站桩一段时间后,这些学员可能会有"气感上身"的感觉。我们教的站桩是不讲气功的,站的好了,什么都有,不需要气感;我们认为站桩的练习不应该加入气功,站桩是在"抽象中求具体",大道至简,最简单的是最好的。跟随我们的理论学习,您会同意我们的说法。面对气感的出现,请放松心情,不要有妄想,继续训练。另外,如果您的气感是因为气息上浮造成的,那么就大错特错了。这个桩就站错了。出现这种情况,要马上回到最基本的训练当中,避免出现气息上浮。
18. Why do I feel chest tightness while Zhanzhuang?
We are required to put around 60% of our body weight below the waist and 40% above the waist in the Zhanzhuang exercise. The Chinese expression for this is "insubstantial on the top, substantial on the bottom". There may be chest tightness or stomach congestion when the body is top heavy, which is "substantial on the top, insubstantial on the bottom". It must be corrected by appropriate Yi so that the force/energy/body weight distribution is 40% in the top and 60% in the bottom. Also, this phenomenon may be caused by individual situations, in which case it might take a long time to "fix" it. 
为什么站桩有胸闷的感觉?
站桩讲究上虚下实,如果站桩的过程中,成了上实下虚,那么就有可能出现胸闷或者胃堵等现象。这个是错的。一定要以正确的意念诱导,用力分布为上四下六。
19. Why do I yawn/spit/fart when Zhanzhuang?
When beginning Zhanzhuang, many practitioners yawn or spit, or even have some difficult-to-talk-about phenomena, such as farting, abdominal ringing, and constantly going to the bathroom. These are all normal and good phenomena, indicating that Zhanzhuang has already improved the metabolism. These things will not be so obvious after a period of time of practice.
为什么站桩要打哈欠/吐痰/放屁?
站桩初学时,很多学员打哈欠不止,或者不停吐痰,甚至有一些难以启齿的现象,比如放屁、腹鸣、不停上厕所等。这些都是正常现象,都是好现象,说明站桩已经促进新陈代谢,过一段时间,就不会这么明显了。
20. Why do I feel that I have a lot of strength, and even want to beat people?
The Hun-Yuan force (unified force) cultivated by Zhanzhuang is served for both health preservation and martial arts. After practicing Zhanzhuang for a period of time, the body gradually becomes a whole, the upper and lower body are connected, and the strength is consolidated. The body strength is greatly increased without any strength training: this is the uniqueness of traditional Chinese martial arts. 
In fact, the feeling of strength is because the body strength has truly increased. When practitioners have better control of the whole body and have strength that they never experienced before, some of them may have occasional imaginings of fighting or even beating, which is not surprising.
为什么站桩时间长了,感觉自己力气很大,甚至想打人?
站桩培养的浑元力,是养生和技击都需要的。站桩一段时间后,身体逐渐成为一个整体,上下通了,力量整了,在没有任何力量训练的情况下,身体力量大增,这是中国传统功夫独一无二的。事实上,感觉力气很大是因为您的力气真的增大了。因为对身体的控制更加随心所欲,偶尔会有打架甚至打人的臆想,这是正常的。
21. Why is there obvious strength in the legs after Zhanzhuang for a period of time?
Zhanzhuang's muscle training start from the feet and legs and follow the principle of "insubstantial on the top, substantial on the bottom". Modern people's lower limbs exercise too little, so the muscles of the legs especially need to be trained. There are additional exercises (such as muscles-as-one) in our teaching method that can strengthen the legs gradually. 
Therefore, it is very reasonable that the legs are obviously stronger after Zhanzhuang for a certain time. Healthy legs are the most practical way to maintain health: "Legs get old first when people grow old." Your practice is on the right track if you experience the strength of the legs.
为什么站桩一段时间后,腿上明显有劲?
我们教的站桩,一定是从腿上开始练,遵循"上虚下实"的原则。再加上现代人下肢运动过少,腿上的肌肉尤其需要训练。我们的站桩教学伴随辅助功法,目的都是先强化腿部训练,逐渐往上练习。所以腿部明显有劲是非常合理的。腿部有劲也是养生最实际的,人老先老腿,一旦不能随意走动,生活质量就彻底下降了。所以,腿部有劲说明您练对了。
22. Why can Zhanzhuang quickly treat hemorrhoids?
"Stubborn diseases" such as hemorrhoids may only be treated surgically in Western medicine, which is accompanied by side effects and risks in the future. However, Zhanzhuang practitioners with hemorrhoids can get easier results. It's expected that there will be an obvious effect and no more pain within 1-3 months; there is a saying "no hemorrhoids makes the body lighter." 
Hemorrhoids can be completely recovered if continuing practice. Why? Hemorrhoids are mainly caused by partial qi and blood blockage caused by prolonged sitting. The Zhanzhuang that we teach uses "muscles as one" as the foundation of training. 
The elasticity of the hip/butt muscles and the circulation of blood throughout the whole body allows the anus area to exercise rationally, thereby lowering the degree of hemorrhoids and slowly healing. However, Zhanzhuang is different than an "anus-lifting" exercise. There is no need to deliberately "lift the anus" in the Zhanzhuang practice.
为什么站桩可以快速治疗痔疮?
痔疮这类"顽疾",西医上只能手术治疗,伴随着副作用及未来很大的风险。然而对于站桩来说,痔疮患者反而是最容易见效的。快者1个月,慢者3个月,即有明显效果,不再疼痛,所谓"无痔一身轻"。继续站桩下去,可以彻底恢复。究竟是什么原理呢?痔疮主要是久坐造成的局部气血堵塞带来的。我们教的站桩,以"肌肉若一"为训练基石,臀部肌肉的松紧转换以及全身的气血运转,使得肛门得以合理运动,从而改善痔疮的程度,慢慢治愈。然而,站桩可不仅仅是"提肛"运动,不要弄错了。站的对了,什么都有,我们教的站桩,不用刻意"提肛"。
23. I feel dizzy when doing Zhanzhuang, what's the matter?
The dizziness is mostly caused by the rising of Qi and blood during the exercise, which is wrong and needs to be adjusted. We must pay attention to the principle: "insubstantial on the top, substantial on the bottom". If the main focus is concentrated on the upper body, the head/neck is not lifted, and the lower body is not steady, all of these will cause your arms, shoulders, neck to become tighter and tighter, and Qi and blood on the cervical spine will not flow freely. 
When you continue to practice Zhanzhuang with a sense to fight these, you will experience top heavy and dizziness. The arms will be difficult to support, and the body may feel like falling off. You must take a break and then start with basic training whenever this happens.
站桩出现头晕,是怎么回事?
站桩出现头晕,多半也是因为站桩时气息上浮造成该的,这是错误的。出现这种情况需要调整,一定要注意:"上虚下实"。如果将主要运动量集中在了上半部分,脖子没有领起来,且并没有做到以下带上,这会导致你的上肢越来越紧,颈椎气血不流通,若持续加强就会出现头晕或上重下轻,上肢难以支撑,身体有倾倒之意。
24. Why is Zhanzhuang effective in treating insomnia quickly?
There are many causes for insomnia. The one caused by neurasthenia is a worldwide problem. The longer the insomnia lasts, the more difficult it is to cure. It is likely that patients will suffer from it for a lifetime once they have it. Zhanzhuang has "magical effect" to heal insomnia. People with insomnia, in general, means that the part of their brain that affects sleep cannot be relaxed when needed, so it's hard to fall asleep. 
Mental training in Zhanzhuang improves the brain's ability to control and suppress/calm the central nervous system. When the central nervous system can be rapidly, widely, deeply suppressed, one falls sleep easily, which is why Zhanzhuang cures insomnia. Zhanzhuang's improvement in curing insomnia relies on consistent training. Insomnia can come back again when it's gone for a period of time. The longer (months, years) we practice Zhanzhuang, the better the healing.
为什么站桩治疗失眠很快见效?
失眠主要是神经衰弱造成的,是世界性难题。失眠的时间越长,就越顽固,很可能伴随一身,失眠的人生活质量是非常差的。但是我们教的站桩却又"神效",已经有无数因为失眠来学站桩的学员证实了这一点。失眠的人,通俗来说,就是大脑在需要休息的时候,不会放松,所以睡不着。如果进行专一的松紧转换,进而做到神经方面可以自由松紧切换,久而久之,大脑就会放松了,从而在需要睡眠的时候很快进入睡眠。站桩对于失眠的改善来源于刻苦的训练,"三天打鱼两天晒网"的规律在站桩来说,是不会达到很好的效果的。
Popular Zhanzhuang Courses
Basic Zhanzhuang Online Course
This is a systematic self-study Zhanzhuang (Standing Meditation) course to develop your body and mind to a greater level. Your health condition can be improved quickly.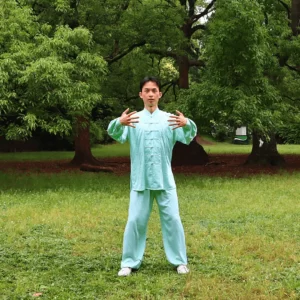 Advanced Zhanzhuang Online Course
Course Level: Intermediate
This course will challenge you but provide with you a new horizon of Zhanzhuang. You may obtain quicker and further health improvement.